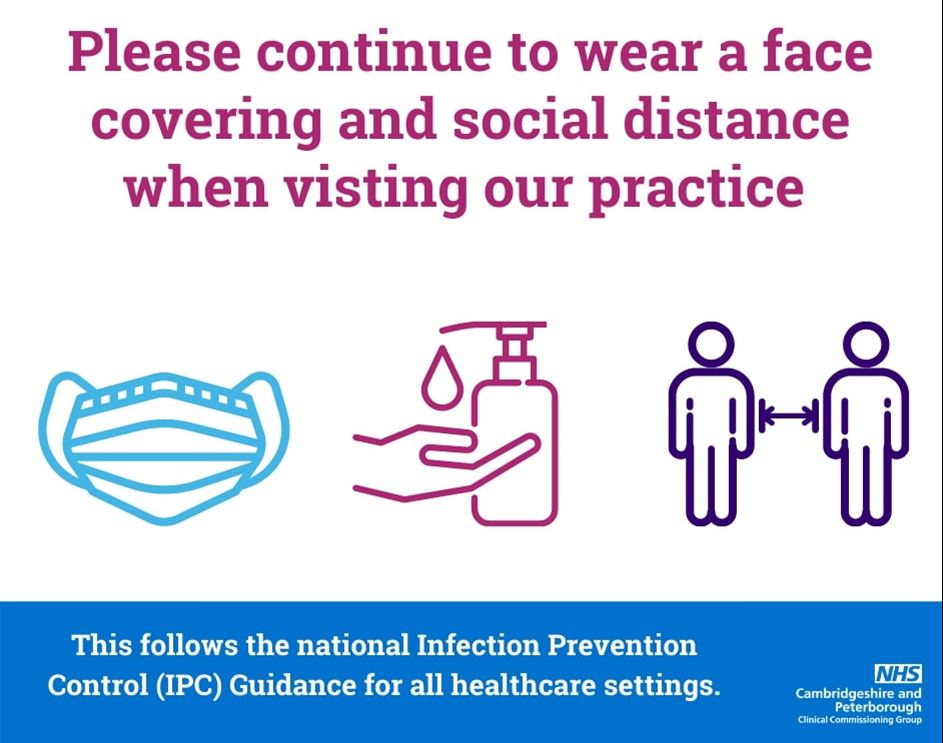 27 January 2022 - Face Covering Review
Visiting our practice? Please continue to wear a face covering and social distance
NHS England have confirmed that despite the Government announcement that from 27 January 2022 face coverings will no longer be mandatory in public places, the UK Health Security Agency's infection prevention and control (IPC) guidance remains in place for all staff and patients in GP practices.
This means we still require patients to wear face coverings, to maintain social distancing and use hand sanitiser regularly. This is to ensure we keep patients and staff safe. Thank you for your co-operation.
Covid-19 Booster Vaccinations
We are now offering booster COVID-19 vaccinations here at Trinity Surgery for our patients. Eligible patients will be contacted directly to book an appointment.
We are working at pace to increase the availability of appointments. In terms of any planned appointments with Trinity Surgery there are no changes at the current time and everyone should attend your planned appointments as normal. If we need to make any changes, we will contact you directly.
Booster vaccinations can also be booked via the national booking service or by attending a walk-in service.
Covid-19 Vaccinations
You may receive a letter from the national NHS Covid-19 Vaccination Booking Service inviting you to book an appointment at a regional Vaccination Centre, or you may receieve a text message from your surgery with a link to book your appointment at North Brink Practice. If you receive the letter from the national service and can travel to the Vaccination Centre safely, we recommend that you book using the details the letter provides.
If you are unable or don't want to go to a Vaccination Centre, you can choose to contact your GP surgery and get your vaccination at North Brink which is the local vaccination hub for patients in this area.
With demand being high for the vaccine, please only book an appointment if you are sure you are wanting the vaccine and are able to attend the appointment.
If you still have not yet recieved an invitiation for your vaccine, you can either call your GP surgery or book your vaccination through the National Booking System at https://www.nhs.uk/conditions/coronavirus-covid-19/coronavirus-vaccination/book-coronavirus-vaccination/
COVID-19 Vaccination Status
From 17 May 2021, people in England who have been fully vaccinated against COVID-19 can demonstrate their vaccination status for international travel. A full course is currently two doses of the Moderna, AstraZeneca and Pfizer vaccine, or one dose of the Janssen single-dose vaccine. Vaccine status will be available through the NHS COVID Pass service from:
the NHS App which you can download from app stores

the NHS website

119 - by requesting a paper letter
You will need to register to use the online services, if you have not already. It may take more than a week for your identity to be checked and verified.
If you cannot access the online services, and you have had both doses of the vaccine, you can request a paper letter from the NHS by calling 119. Only call 119 if you are due to travel outside the UK in the near future and have had your second dose (or one dose of the Janssen single-dose vaccine) more than 5 working days ago. It may take up to 7 working days for the letter to arrive.
This practice is not able to provide you with a letter that shows your COVID-19 vaccination status. Please do not contact the practice about your COVID-19 vaccination status unless you have been advised to by the 119 service.
Help us to help you
All NHS services are under severe pressure at the moment, as we look after increasing numbers of patients who are sick with covid-19 in the community, and other deteriorating conditions too, we are also delivering the huge and vitally important covid-19 vaccination programme.
Do please make sure that you continue to get in touch with us if you need to. This is particularly important if:
your problem is genuinely urgent
you have a long-term condition that is getting worse
you are worried about symptoms that might indicate cancer
Please also remember you can call NHS 111 for urgent concerns, and 999 for serious emergencies. Your local pharmacist can also help with minor complaints too.
For adults with mental health problems including depression and anxiety, you can refer yourself directly to the local wellbeing service, via 0300 300 0055.If you're experiencing a mental health crisis, call the First Response Service by calling 111 and select option 2 (in Wisbech call 111, select option 1 and ask to be put through to the First Response Service).
A local CCG has produced an excellent childhood illnesses leaflet free to download here, full of advice and information for parents and carers of young children: https://hertsvalleysccg.nhs.uk/application/files/1716/0941/0098/Help_your_Child_Stay_Well_This_Winter_FINAL.pdf
The Cambridgeshire County Council has a range of support and information to help in times of urgent need: telephone 0345 045 5202 8am-6pm weekdays 9am-1pm Saturdays. Outside office hours if someone is in danger telephone 01733 234724. In an emergency, call 999. Also see www.cambridgeshire.gov.uk/adults.
Thank you very much for helping us all manage under these very difficult circumstances.